Cut Your Own Medical Splint/Cast Cotton Stockinette Tube Sleeve 100 Yard Roll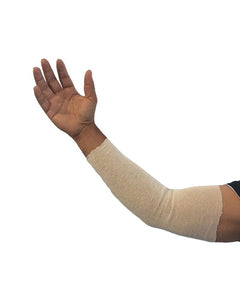 This Cut Your Own Sleeve Stockinette can be cut to any length sleeve you want to specifically fit your needs. 
This unbleached 100% cotton tubular material comes 3" x 100 yards per roll. It helps prevent chafing and keeps affected areas clean by wicking away perspiration. Very absorbent to help for use under casts, over dressings, or with cervical collars and orthopedic appliances. Stretches up to four times its normal width to conform to the body.
Color is a natural beige. Since this is 100% Cotton, the material is machine washable for extended use.
Cutting your own sleeve will not only save you time but money. The most economical way to protect yourself from sharp, hot objects! or to wear under a removable medical cast or splint. Form fitting and stretchable.
Material: 100% Cotton
Code: 12-209-P
Economical stockinette wicks away perspiration to reduce skin irritation
300 Sleeves Can Be Cut Per 100 Yards
Made of absorbent, unbleached, knitted cotton
Reduces perspiration buildup under splints and casts
100% Cotton
Machine Washable
Color is a natural beige
Wholesale case holds 12 rolls
Made in the USA