Light Weight Disposable Lab Jackets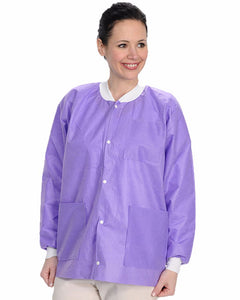 Light Weight Disposable Lab Jackets is a easy breath disposable medical and dental lab coats are a medium weight and made of a 3-layer SMS material. They offer a fluid resistance with a more light weight material. SMS is lightweight and resistant to tears and punctures. SMS barrier fabric is a unique tri-laminate construction that offers a high tensile strength and toughness that is also soft, durable and easy to work with.
Available in Sizes XS-3X. Ideal for pharmaceutical companies, hospitals, dentists, nurses, lab assistants, teachers, medical workers, EMS and more.
SMS - 38 gram +/-3
Material: 3-layer Soft SMS Material
Code: 13-3530
Snap front
"Easy Breath" SMS Fabric
Knit Collar & Cuff
3 Pockets
Disposable lab coats
SMS 3 Layer Fabric that is breathable yet fluid resistant
Autoclavable
Can be washed up to 5 times
Comes in 6 colors
Sizes SM-3X
10 per pack or Case of 100