(25/Case) LiquidGuard Disposable Coveralls with Hood, Booties & Elastic Wrists - Similar to Tyvek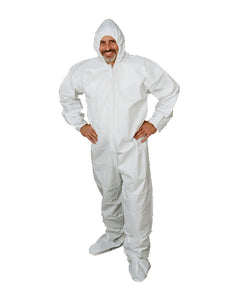 Our White Disposable LiquidGuard Coveralls have a Zipper Front closure, serged seams and collar, and elastic wrists. This allows for a very quick and economical way to easily protect your clothing. Ideal for general industrial, agricultural, hospitals, clinics, medical laboratories, painting and lead remediation. LiquidGuard is more resistant and breathable than Tyvek, at much less cost! They provide excellent protection against non-hazardous chemical splashes, liquids, dry particles, grease & grime. It also passed the ASTM F1670 & F1671 for both blood & viral penetration.
BETTER THAN TYVEK
67% More Liquid Resistance
25% More Breathability
100% Particle Holdout, Lint Free
Code: 13-4903
Zipper Front
Elastic wrists
Attached Hood & Non-Skid Booties
Blood & Viral Resistant
Tear-, puncture-, and penetration-resistant
Lint Free, Latex Free & Anti-Static
Lightweight and breathable
Packed 25 coveralls per case.