Tingley 31161 Economy Plain Toe PVC Knee Boots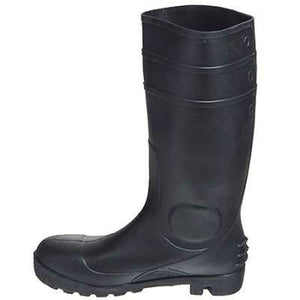 Our Tingley 31161 Black Plain Toe PVC Knee Boot measures 15" high. It is an Over the Sock Knee Boot that Offers Good Performance at an Economical Price. It has a flexible PVC upper material that stays supple in cold temperatures to make walking easier.

Material: PVC
Code: 24-31161
15" high PVC Over the Sock Knee Boot
Adult men sizes 4 to 14. To convert Men's to Women's Boot Sizes, subtract two sizes from your U.S. women's size to find the appropriate size in U.S. men's boots.
Tougher out sole material for good abrasion resistance.
Injection molded construction for 100% waterproof protection.
Eco-conscious upper, made from 30% recycled material.
Self cleaning cleated outsole spits out debris as you walk.
Removable EVA contour insole for great comfort.
Ideal Applications: General Purpose in Agriculture, Industry, and Construction.
Chemical Resistance: Fats, certain acids, hydrocarbons, caustics, and other chemicals.