(30/Case) PolyLite Disposable Red Lab Coats No Pockets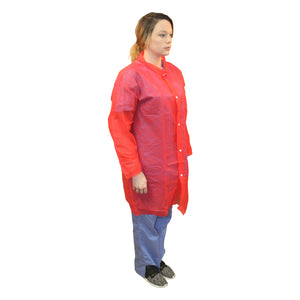 Polylite Red Lab Coats are Disposable with a Snap Front closure. They do not have pockets. It is a made of polyethylene fibers that are spunbonded to offer unique qualities of excellent barrier, toughness, and strength in all directions. It is lightweight and highly resistant to tears and punctures.
GSM = 28 gram +/-3
Protective clothing repels dirt better than woven cloth garments. The material provides an excellent barrier against dirt and other dry particulates, including asbestos, lead dust, and radioactive dusts down to sub-micron size. These disposable lab coats are ideal for medical and industrial work, schools, science labs, laboratory work or any environment that your clothing needs protection.
 Code: 13-1710R
Light barrier protection
Light Tear, puncture, and penetration resistant
Lightweight and breathable
Button Closure
Knee Length
Color: Red Packed 30 per case.