NitraCare Plus Nitrile Gloves (3.5 mil) | Exam Grade | Case of 1000 (2X = 900)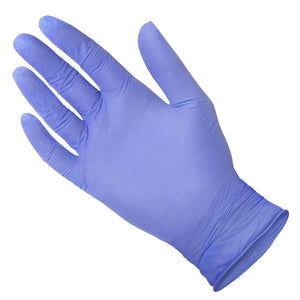 Description:
NitraCare 100 Nitrile Exam Gloves are our best-selling exam gloves in our full Exam glove portfolio. They provide tactile sensitivity and protects hands from potentially infectious materials. They offer a soft and comfortable feel with outstanding tactile sensitivity.

Characteristics and Overview:
Finger-tip textured enable grip even when wet.
Standard color coded sizing to identify different sizes.
Offer excellent sensitivity for touch perception and dependable protection
USP 800 Compliant
Meets both ASTM D6978-05 Standards for use of chemotherapy gloves when handling hazardous drugs*

Specifications:
Brand: NitraCare 100
Material: Nitrile
Color: Violet Blue
Sterility: Non-Sterile
Cuff: Beaded Cuff
Sizes: XS, SM, MD, LG, XL and 2XL
Accelerators: Yes
Chemo Tested: Yes
Glove Interior: Powder-Free, Chlorinated
Glove Exterior: Textured Finger-tips
Length (inches): 9.5 in
Palm Thickness (Avg): 3.1 mil
Finger Thickness (Avg): 3.5 mil
Tensile Strength (Mpa): 35 / 38 Mpa
Ultimate Elongation (%): 580 / 550
Pin Hole (AQL): 1.5

Quality Standards:
Manufactured in accordance with Quality System ISO 9001.
Exceeds and meets current ASTM Standards: – D6319, D5151, D1671 & D6978.

This product is made from Synthetic Nitrile Polymer and contains no natural latex rubber.
* When used in accordance to the guidelines set forth in the USP 800 chapter.
Tested chemotherapy drugs available upon request.

Code: 85-MNE505