(Dozen) G-Tek® ECO Series™ Seamless Knit Recycled Yarn / Spandex Blended Glove with Polyurethane Coated Flat Grip on Palm & Fingers - 13 Gauge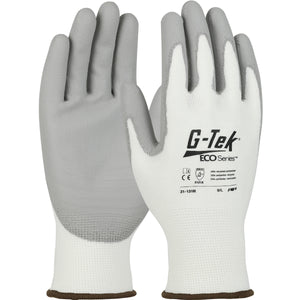 SIZES: XS-2XL
CASE PACK: 10 Dozen
LINER MATERIAL: Recycled Plastic
COATING: Polyurethane
GRIP: Smooth
GAUGE: 13
ANSI ABRASION LEVEL: 3
EXTENDED LIFE: Reusable/Launderable
EN388 RESULTS: 3131XX
COUNTRY OF ORIGIN: China
Product Description
PIP's is committed to developing high quality, innovative products that are less harmful to the environment. We are working to reduce the amount of non-recycled materials used in all aspects of our products and packaging. Our efforts are incremental, but represent small, positive steps towards making a difference for the environment. We hope our efforts spur others to do the same.
FEATURES
Seamless knit blended liner fibers made of 90% recycled PET water bottles and 10% Elastane for comfort, finger dexterity and breathability
Each pair is made from two (500 mL) P.E.T. water bottles and reduces 29.4g of CO2 emissions per pair
Polyurethane (PU) coating provides abrasion resistance and excellent tactile sensitivity
Knit wrist helps prevent dirt and debris from entering the glove
Breathable back for comfort
OEKO TEX approved
Packaged in a biodegradable poly bag of 12 pairs with technical information listed on recycled cardboard
ANSI ABRASION LEVEL:
3
Test Method: ASTM D3389-10
The ANSI/ISEA 105-2016 standard outlines test methods for abrasion and is scored from 0-6. The ASTM D3389-10 test is used for coated gloves and the end point (failure) is the number of abrasion cycles it takes for the coating to wear through. The larger numbers of cycles indicates greater abrasion resistance of the product and a higher ANSI Abrasion Level.
BEGINNING OF LIFE –
MADE FROM RECYCLED MATERIALS
PIP® has taken our innovative platform to the next level, we use recycled P.E.T. water bottles – shredded and extruded as a fiber creating a comfortable and cool material as well as recycled polyester yarns used to create yarns for gloves and apparel.
END OF LIFE –
RECYCLABLE VIA TERRACYCLE® PROGRAM
Whether it's earplugs, gloves, safety eyewear or other recyclable PPE used in a manufacturing facility or jobsite, PIP®, in collaboration with TerraCycle® provides an easy and convenient way of collecting used PPE to help reduce the amount of waste that ends up in landfills. Contaminated PPE cannot be recycled. Learn More.
EXTENDED LIFE –
REUSABLE/LAUNDERABLE
Reusing or laundering products not only reduces cost, but also reduces the amount of waste that is put into our landfills in turn reducing the environmental impact.
EN388 RESULTS:
3131XX
EN 388 2016 Results:Abrasion: 3Cut (Coupe Test): 1Tear: 3Puncture: 1Cut (TDM-100 Test): XImpact Protection: X
EN 388 is a European Standard. Cut Level is determined by the number of cycles it takes a spinning circular blade, that is pulled across the material under a constant weight of 500 grams, to cut the fabric. As the number of cycles increase, so does the glove's ratings. Click here for more information about the EN 388 2016 standard.