(1000/Case) Blue Disposable Shoe & Boot Covers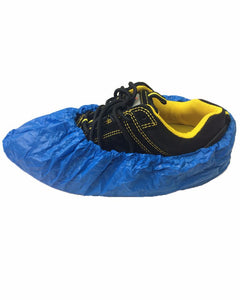 Our disposable .55 mm CPE shoe covers can be used to keep unwanted contamination out of many cleanroom areas!
They are manufactured from a low-density chlorinated polyethylene fabric, which is designed to protect against dirt, grime, and liquid splash.
Perfect for factories, medical facilities, pharmaceutical companies, food preparation and more, our cleanroom shoe covers can save you money and time by keeping your areas contamination free! Liquid Impervious Shoe Covers. Has elastic top, withstands high levels of fluids. Impervious plastic material does not have a non skid feature, the plain bottom does not provide traction.
One Size Fits Most shoes or work boots. Packed 1000 each per case, (each case has 10 bags with 100 shoe covers per bag).
Size Large will Fit Most Shoe or Work Boots Sizes 6-9
Size X-Large will Fit Most Shoes or Work Boots Sizes 10-11
Size 2X-Large will Fit up to Size 16 Shoe or Boot
Material: Chlorinated Polyethylene Fabric
Code: 13-CPE-1000-P
.55 mm CPE Shoe Cover
Chlorinated Polyethylene Fabric
Elastic Top
Withstands High Levels of fluids
Impervious plastic material
Does not have a non skid feature
Plain Bottom
Does not provide traction
One Size Fits Most shoes or work boots
PLACE A 60 Case Pallet Order and get FREE FREIGHT to the lower 48 states.