Aurelia Sonic Nitrile Gloves (3.5 mil) | Exam Grade | Case of 1000 (CLEARANCE)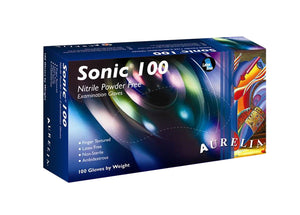 The Aurelia Sonic 100 are lightweight and very flexible. Quality Cobalt Blue Nitrile examination gloves that offer increased tensile strength and protection over Latex and Vinyl.
Ideal for medical, dental, industrial, laboratory, food service and protection against chemicals. USDA Accepted for food service use. These gloves are a reversible style to fit either hand.

Packaging: 100 pieces per box / 10 boxes per case 
Material: Nitrile 
Code: 85-9377
Material: Nitrile (100% Latex-Free)
Glove Design & Feature: New Ultra Comfort Formulation, Finger Textured Finish
Color: Soothing indigo blue color
Thickness: 2.2 mil
Packaging: 100 pieces per box / 10 boxes per case Automated packing to enhance single glove dispensing