18 x 18 Natural Unwashed Shop Towels / Mechanics Rags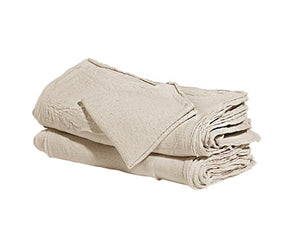 These Natural Unwashed Shop Towels are a great buy. Used by machine shops, manufacturing, auto repair centers, lube centers, body shops, service companies, print shops, paint, marinas, janitorial cleaning and industrial cleaning. The shop towels are low-lint First Quality 100% Cotton Towels. Shop towels are ideal for general maintenance and greasier wiping applications.
Please note that the natural towels are an open weave and generally need to be washed before use.
Shipping: Bales ship by truck not UPS

For SECOND QUALITY (NEW) RED SHOP TOWELS ...Click Here...
Material: 100% Cotton
Code: 60-1818NAT
100% Cotton Towels
Ideal for general maintenance and greasier wiping applications.
Size: 18 x 18
500pcs/Box
1500pcs/Bale