(15 Dozen/Case) 16" x 16" All Purpose Microfiber Cleaning Towels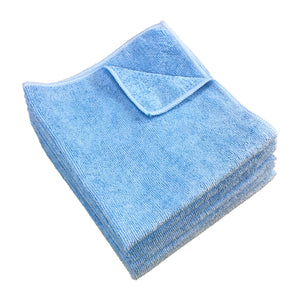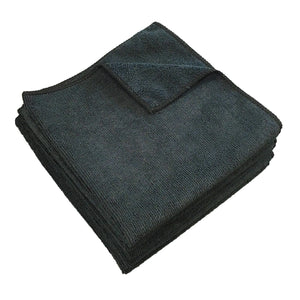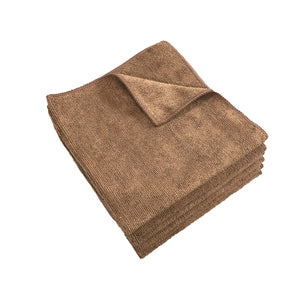 Our All Purpose Microfiber Towels are constructed from woven polyester / polyamide blend microfiber. The open spaces in the fibers created by the splitting process are what give the towels its ability to hold dust and dirt as well as its ability to absorb liquid. The edges of the towels are sewn with over lock stitching which greatly increases the life of the towel. When cared for properly our 16"x16" All Purpose Microfiber Towels can last hundreds of washings. Uses: There are literally hundreds of uses for our 16"x16" All Purpose Microfiber Towels.
Better Absorption and Durability Than Other Microfiber Cloths. Our top selling all-purpose microfiber cloths absorb 7 times their weight in liquid and last hundreds of washings, saving you time and money versus reusable or lower quality cloths.
Perfect for the Professional Cleaner or the Homeowner That Wants to Clean Smarter! A great combination of economy and durability, these are the perfect thickness for nearly all cleaning applications.
Save Money and Skip the Chemicals. Microfiber cloths thoroughly clean without the use of harmful and expensive chemical cleaners.
Perfect for Dry or Damp Surfaces & Safe For All Surfaces. Whether you're dry dusting or cleaning up spills, this cloth excels in every application. Use the same type of cloth for cleaning finished, painted, high-shine, metal or tile surfaces. This cloth will leave a streak-free, clean surface behind.
Great Size for Quick Cleanups. Small but mighty, this size is perfect to store in a car, purse or laptop bag for wiping up a spill or dusting off your laptop.
Material:  80% Polyester / 20% Polyamide Denier
Code: M915100
16"x16" All Purpose Microfiber Towel
Woven polyester / Polyamide Blend Microfiber
Size: 16"x16" (40cm x 40cm)
Colors: Blue, Black, Red, Brown, Orange, Green, Navy, Pink, Purple, White & Yellow
Weight: 300 Grams per Square Meter
Blend: 80% Polyester / 20% Polyamide
Edges: Over Lock Stitching