(100/Case) Tarp Straps EPDM Rubber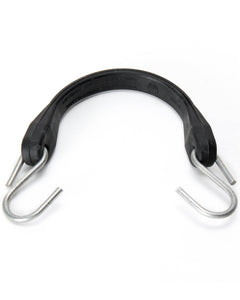 Molded rubber tarp straps with quick grip hooks. The economical alternative to polyurethane tarp tie downs. Made of the highest grade weather resistant black EPDM rubber, tarp straps are imported and are molded using only virgin material. Straps stretch one and one-half times their original length and are imprinted with safety instructions. They are ideal for the light to medium duty use. These straps are designed to hold large covers in place. Rubber Tarp Straps are available in different lengths of 15", 21", 31"and 41".
Rubber tarp straps are not to be used for tying down or securing cargo.
Code: TS-Tarp-Strap
Black EPDM Rubber
Straps Stretch One and One-half Times
Available in Different Lengths of 15", 21", 31"and 41"