(6/Case - $6.99/Umbrella) 46" Adult Clear Bubble Dome Plastic Auto Open Rain Umbrellas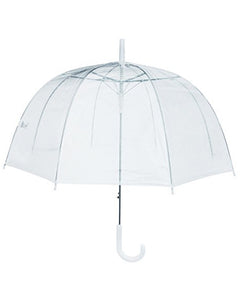 One of our most popular Rain Umbrellas. This plastic 46" arc bubble dome, durable clear plastic umbrella is a Classic, offering complete coverage against the rain and wind! Show off your style on the city streets. The clear color lets you see and be seen and also protects you from the rain. The auto open push button feature makes it very easy to open quickly. A Customer Favorite for weddings, theater groups, monogramming, craft groups, reselling on etsy, gifts and presents, dance recitals and more. A classic look that never goes out of style.
A very popular choice for weddings, recitals and more. Or for stenciling and arts and crafts
Plus Free Shipping! Don't forget to check out our same style just slightly smaller in our kids umbrellas section. 
Material: Clear PVC Material, Metal Shaft and Frame, Plastic Hook Handle
Code: 3465Dome-P
Sold by the Single Umbrella or Save Money & Buy 6 Umbrellas per Case
Free Shipping on Single Umbrellas
46" Clear Dome Style Arc Umbrella
Biodegradable plastic canopy, 8 panels
Metal Shaft & Ribs
Auto-Open
Manual-Close
Plastic Tips
Plastic Hook Handle
Clear PVC Material
Closes to 32" in length
FREE SHIPPING

Please order by 12 Noon Eastern for: UPS Next Day, 2nd Day & 3 Day Select Shipping