(120 Case/Full Pallet) ProGuard Black Nitrile Gloves (3.9 mil) | Exam Grade | Case of 1000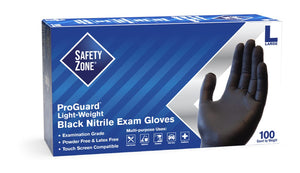 Nitrile Gloves are the perfect compromise between latex and vinyl. Nitrile is made from an allergy safe compound that feels a lot like latex but it's much stronger and is more comfortable to wear. Nitrile is perfect for demanding applications, especially cleaning and dish washing.
Black NITRILE GLOVES

POWDER FREE

100% LATEX FREE

STANDARD LENGTH (9.65″ +/- 0.25″)

SMALL – 2X LARGE

PACKED 100/BX 10BX/CS (1,000 PCS/CS TOTAL)
Material: Nitrile


Pallet of 120 cases | $32.06/case | $3,847.20 delivered
If mixing a pallet, please note the sizes you want in the "notes" section.
Code: 85-GNPRBK-120