Orange Rough Finish PVC Knitwrist Gloves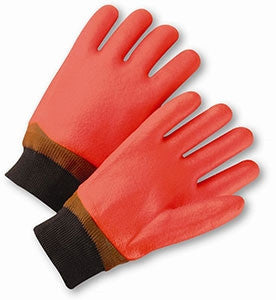 Our Orange Rough Finish PVC Knitwrist Gloves PVC Gloves are dipped in PVC for the ultimate protection against chemicals and rough environments. They have an extra gritty rough PVC coated finish. Inside is a full insulated foam lining to protect hands from extreme cold environments to lock out cold and to seal in warmth. The Safety Orange color keeps hands visible, ideal for Highway, Traffic and Warehouse users where safety is the #1 Concern. The black knit wrist Style allows for maximum protection against dirt, oil and grim.Mens Size Large. One size fits all.
Material: 100% PVC
Code: 85-Rough88KW-C2-P
Ideal for:
Cold Weather
Outdoor Construction
Highway and Traffic
Industrial Cleaning
Garbage Removal
Fisheries
Any job that needs protection from chemicals and spills.