(12 Pairs) Maximum Safety® TuffMax3™ Seamless Knit HPPE Blend Glove with Nitrile Grip and TPR Impact Protection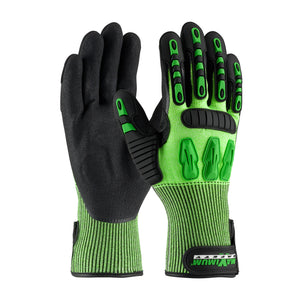 SIZES: S-2XL
CASE PACK: 72 Pair
COUNTRY OF ORIGIN: China
LINER MATERIAL: HPPE
COATING: Nitrile
GRIP: MicroSurface
ANSI IMPACT LEVEL: 2
ANSI CUT LEVEL: A2
ANSI ABRASION LEVEL: 6
ANSI PUNCTURE LEVEL: 5
EN388 RESULTS: 4X43BP
Product Description
Ideal for petrochem, construction, auto repair, demo, mining, and fabrication.
FEATURES
High performance polyethylene (HPPE) fiber shell is light-weight and provides excellent dexterity, tactile sensitivity and cut resistance
MicroSurface nitrile-coated padded palm for enhanced wet & dry grip
Thermoplastic rubber (TPR) molded finger, thumb and back of hand guards for maximum protection
Reinforced leather between thumb and index finger
Extended wrist
Hook and loop closure for easy on/off and a secure fit
ANSI ABRASION LEVEL:
6
Test Method: ASTM D3389-10
The ANSI/ISEA 105-2016 standard outlines test methods for abrasion and is scored from 0-6. The ASTM D3389-10 test is used for coated gloves and the end point (failure) is the number of abrasion cycles it takes for the coating to wear through. The larger numbers of cycles indicates greater abrasion resistance of the product and a higher ANSI Abrasion Level.
ANSI PUNCTURE LEVEL:
5
Test Method: ASTM F1342
The ANSI/ISEA 105-2016 blunt puncture testing uses a probe to simulate a tear or burst hazard. The test measures the amount of force needed for a blunt probe to pierce through PPE material. Results are given in Newtons, which is converted into a 1-5 scale and spans from 10 newtons (Level 1) to 150+ newtons (Level 5) of puncture resistance.
EN388 RESULTS:
4X43BP
EN 388 2016 Results:Abrasion: 4Cut (Coupe Test): XTear: 4Puncture: 3Cut (TDM-100 Test): BImpact Protection: P
EN 388 is a European Standard. Cut Level is determined by the number of cycles it takes a spinning circular blade, that is pulled across the material under a constant weight of 500 grams, to cut the fabric. As the number of cycles increase, so does the glove's ratings. Click here for more information about the EN 388 2016 standard.